Cabinotch is proud to introduce the Cabinotch Design Library through KCD Software
Innovation in custom cabinet technology brings two great companies together in the form of an easy-to-use design and rendering tool for custom cabinetmakers. With the new Cabinotch Design Library™, KCD Software users can leverage the precision of the Cabinotch Box System with their own designs to create beautiful, cost-effective cabinetry.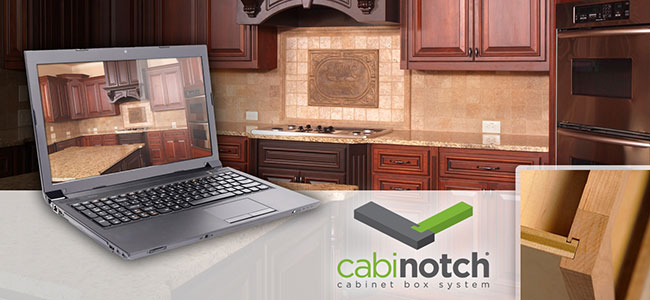 Benefits include:
Reduces cost by minimizing waste and ordering time
Streamlines project planning by integrating design and ordering
Increases productivity: less cutting means more time for all other aspects of your projects
Fast-track scaling your business: take on high-volume projects without having to build out, purchase new equipment, or increase staff
No-added-formaldehyde PureBond® hardwood plywood
Made in the USA. Manufactured in the US out of North American sourced wood.
Want to learn more?
Check out our help documents, frequently asked question page, or watch the tutorial videos on the KCD Software website (kcdsoftware.com):
How to get started
First, you will need a Cabinotch account (if you don't already have one). New customers can click the Register Now! button below to create an account, and use the promotion code shown in red to qualify for special pricing. Once registered, return to this page and proceed to the second step.
Second, if you are a licensed KCD software user, use the button below to acquire the Cabinotch Design Library (CDL) from KCD Software. If you are not an existing user, please contact us or KCD directly to look at your options for purchasing or renting the KCD software.
Third, in order to upload KCD layout files via our website, you will need a compatible internet browser. This includes any version of Chrome, Firefox, or Opera; as well as Safari 5 or later, and Internet Explorer 10 (IE10) or later.
Finally, after building your KCD project with the Cabinotch Design Library, output it in the .cfp or .xjf format. Then Log In to the Cabinotch Store site, go to your Cart, choose KCD Uploads, and follow the instructions there.