Frequently Asked Questions
Face Frame Cabinetry-Webstore
General Questions on Face Frame Cabinetry
Webstore - How to Create and Order a Project
After logging into your account and finding the "Face Frame Cabinets" button from the website directory (left hand side of your browser), you will be directed to the "Project Selection Screen"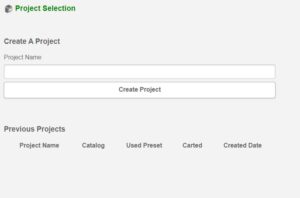 Here is where you will both generate new bids/quotes and find any previously "Carted" (finalized) projects as well as any projects which you have saved and needed to return to later to complete.
Upon creating a project, you will first be required to define "Presets" for that project…See Below
After defining a set of preset options or selecting from a previously generated preset you will then populate cabinets into you project one at a time. The next screen you come to will be the Item Selection screen where you will be presented with our current catalog. By selecting from the Cabinet List, you will find a multitude of categories which are expandable, under each category you will find cabinets in various configurations.

By selecting any cabinet, you will then configure that item, setting all parameters for that unit and applying a "Customer Reference" or Cabinet Number (which will be present on labeled parts). On this page you will see a live 3D rendering of the cabinet which will changed to reflect the options or dimensions being selected, as well as you will see a calculated price for that cabinet box (excludes drawers and hardware).
You will then be taken to your Project Review.
Here you will see the list of items currently in your project, from here you may "Add Custom Item" to return to the cabinet catalog or you may Edit, Duplicate, or Remove any cabinet from this page.
Once your project is completed, you will then "Add To Cart" from the Project Review page. *Note that this will finalize this project and you will no longer be able to edit the units populated into it.
Post "Add To Cart", this project will be loaded to your Shopping Cart. Here you will see a break down of pricing for the items which Cabinotch will provide, I.E., Custom Cabinets, Dovetailed Drawers, Undermount Drawer Slides, and Hinge hardware. There will also be several reports on this page for your own reference.
You may now save this Shopping Cart or Proceed to Checkout.
Webstore Presets Faceframe
Receiving Component Parts Shipments
There are three pallet sizes, one is 31" x 63", another is 46.5" x 98" and the last size is 35.5" x 95". If you have tall cabinets like a pantry, linen, or tall slab end panels, or asked us to provide your toe kick material or tall fillers for Full Access cabinetry, then we will use either the 46.5" x 98" or 34.5" x 95" pallet.
If you do not have a fork truck with long forks or fork extenders, then you might want to consider having your pallet delivered to your local FedEx terminal, and picking it up there (they will set the pallet on your trailer, or into your truck bed for you).
Ideally, you will unpack and check-in all your components as soon as they arrive to make sure nothing is damaged or missing. By doing this, you provide time to get replacements for damaged or missing parts before you are in desperate need of them.
The clear down-side to this process is the parts might be in your way if you go through this process and just stack them against a wall, so we suggest you either make or purchase carts to store your parts in that are mobile so you can move them around to get them or keep them out of your way until they are needed. Typically these carts full of parts will take up no more room than our pallet/box, so there is really no downside if you invest in the carts.
The up-side is you are not just checking the parts in, you are sorting them, and ideally you will sort them by cabinet number which will make assembly much easier and far quicker. Take a look at our Blog post on Sorting Your Cabinotch Components for a more in-depth look at this process.
Cabinotch sizes drawers for Blum™ Tandem drawer box slides. To figure for this you will first take the cabinet opening width and then subtract 3/8" to find the finished drawer box width. Follow the tables below to understand how Cabinotch figures drawer box depths and heights based on cabinet dimensions.
*Note that if specifying that your cabinets have a Back Scribe then the cabinet depth is affected by 3/8" and if you indicate that drawers are inset then the cabinet depth here is assumed off by 3/4".
Cabinet depths deeper than 25" - 25", drawer will be 24" depth.
Cabinet depths from 24-15/16" - 22", drawer will be 21" depth.
Cabinet depths from 21-15/16" - 19", drawer will be 18" depth.
Cabinet depths from 18-15/16" - 16", drawer will be 15" depth.
Cabinet depths from 15-15/16" - 13", drawer will be 12" depth.
Cabinet depths from 12-15/16" - 10-1/2", drawer will be 9".
Opening height 10-13/16" and above, drawer will be 10" height.
Opening height 10-13/16" - 9-13/16", drawer will be 9" height.
Opening height 9-13/16" - 8-13/16", drawer will be 8" height.
Opening height 8-13/16" - 7-13/16", drawer will be 7" height.
Opening height 7-13/16" - 6-13/16", drawer will be 6" height.
Opening height 6-13/16" - 5-13/16", drawer will be 5" height.
Opening height 5-13/16" - 4-13/16", drawer will be 4" height.
Opening height 4-13/16" - 3-12/16", drawer will be 3" height.