Frequently Asked Questions
Full Access Cabinetry Webstore
General Questions on Full Access Cabinetry-Webstore
Creating and Ordering a Project
After logging into your account and finding the "Face Frame Cabinets" button from the website directory (left hand side of your browser), you will be directed to the "Project Selection Screen"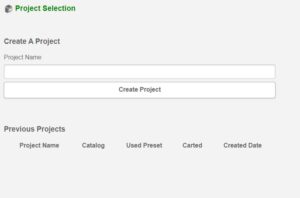 Here is where you will both generate new bids/quotes and find any previously "Carted" (finalized) projects as well as any projects which you have saved and needed to return to later to complete.
Upon creating a project, you will first be required to define "Presets" for that project…See Below
After defining a set of preset options or selecting from a previously generated preset you will then populate cabinets into you project one at a time. The next screen you come to will be the Item Selection screen where you will be presented with our current catalog. By selecting from the Cabinet List, you will find a multitude of categories which are expandable, under each category you will find cabinets in various configurations.

By selecting any cabinet, you will then configure that item, setting all parameters for that unit and applying a "Customer Reference" or Cabinet Number (which will be present on labeled parts). On this page you will see a live 3D rendering of the cabinet which will changed to reflect the options or dimensions being selected, as well as you will see a calculated price for that cabinet box (excludes drawers and hardware).
You will then be taken to your Project Review.
Here you will see the list of items currently in your project, from here you may "Add Custom Item" to return to the cabinet catalog or you may Edit, Duplicate, or Remove any cabinet from this page.
Once your project is completed, you will then "Add To Cart" from the Project Review page. *Note that this will finalize this project and you will no longer be able to edit the units populated into it.
Post "Add To Cart", this project will be loaded to your Shopping Cart. Here you will see a break down of pricing for the items which Cabinotch will provide, I.E., Custom Cabinets, Dovetailed Drawers, Undermount Drawer Slides, and Hinge hardware. There will also be several reports on this page for your own reference.
You may now save this Shopping Cart or Proceed to Checkout.
Actually, it's totally up to you. We will edgeband the front edge of all cabinet parts, and you choose whether or not we edgeband the tops and bottoms of your cabinets.
We provide three questions for edgebanding:
Edgeband for Front Edge of Cabinets
Edgeband for Adjustable Shelves
Edgeband for Tops and Bottoms of Sides
These questions allow you to tell us you don't want us to edgeband these edges at all, or choose the color or specie of edgeband you want us to use in each location, or to let us know that you will provide the edgeband for us to use (when you need a color we do not show in our list).
We offer Rehau PVC edgeband in their 50 most popular colors and raw veneer edgeband in the following species:
Alder
Cherry
Hard Maple
Hickory
Red Oak
White Oak
Walnut
We also offer a pre-finished Hard Maple edgeband option.
If none of these meets your requirements, you have several other options. If you have your own edgebander, you can choose "None", and we will not edgeband your parts, allowing you to edgeband them with what you want, and where you want.
Another item in our list that may be helpful is our "Customer Supplied" option. If we don't have a color or type of banding that meets your requirements, then you can source the edgeband yourself and have it shipped to our plant. We will hold your job in Order status until we have received the edgebanding at our plant, then release it to the floor once the edgebanding arrives, and edgeband your parts with the edgebanding you supplied. We will then include the balance of supplied edgebanding with your shipment.
White Melamine - C100007 Designer White.
Fog Gray Melamine - C600257 Fog
Hard Rock Maple Melamine - CP20332 Hardrock Maple
Receiving Component Parts Shipments
There are three pallet sizes, one is 31" x 63", another is 46.5" x 98" and the last size is 35.5" x 95". If you have tall cabinets like a pantry, linen, or tall slab end panels, or asked us to provide your toe kick material or tall fillers for Full Access cabinetry, then we will use either the 46.5" x 98" or 34.5" x 95" pallet.
If you do not have a fork truck with long forks or fork extenders, then you might want to consider having your pallet delivered to your local FedEx terminal, and picking it up there (they will set the pallet on your trailer, or into your truck bed for you).
Ideally, you will unpack and check-in all your components as soon as they arrive to make sure nothing is damaged or missing. By doing this, you provide time to get replacements for damaged or missing parts before you are in desperate need of them.
The clear down-side to this process is the parts might be in your way if you go through this process and just stack them against a wall, so we suggest you either make or purchase carts to store your parts in that are mobile so you can move them around to get them or keep them out of your way until they are needed. Typically these carts full of parts will take up no more room than our pallet/box, so there is really no downside if you invest in the carts.
The up-side is you are not just checking the parts in, you are sorting them, and ideally you will sort them by cabinet number which will make assembly much easier and far quicker. Take a look at our Blog post on Sorting Your Cabinotch Components for a more in-depth look at this process.
Cabinet Assembly Questions
Functional Hardware Questions
The shallowest under-mount drawer guide that Blum makes is a 9" slide, the shallowest cabinet that a 9" drawer guide will fit into is a 294mm (11-1/2"). In KCD, we will not allow you to make any cabinet that has a drawer in it less then 294mm (11-1/2") deep.
For cabinet depths from 294mm (11-1/2") to 355mm (14") we will machine for a 9" under-mount drawer guide, and the drawer box depth will be 9".
For cabinet depths from 356mm (14-1/16") to 431mm (17") we will machine for a 12" under-mount drawer guide, and the drawer box depth will be 12".
For cabinet depths from 432mm (17-1/16") to 507mm (20") we will machine for a 15" under-mount drawer guide, and the drawer box depth will be 15".
For cabinet depths from 508mm (20-1/16") to 584mm (23") we will machine for a 18" under-mount drawer guide, and the drawer box depth will be 18".
For cabinet depths from 585mm (23-1/16") to 661mm (26") we will machine for a 21" under-mount drawer guide, and the drawer box depth will be 21".
For cabinet depths from 662mm (26-1/16") and deeper, we will machine for a 24" under-mount drawer guide, and the drawer box depth will be 24".
Drawer Box height (the exterior height of the drawer box from bottom to top) will be determined by the Drawer Front height, and are as follows:
For drawer front heights from 125mm (4.92") to 152.2mm (5.99"), the drawer box will be 76.2mm (3") tall (height).
For drawer front heights from 147mm (6") to 180mm (6.99"), the drawer box will be 102mm (4") tall (height).
For drawer front heights from 177.7mm (7") to 203mm (7.99"), the drawer box will be 127mm (5") tall (height).
For drawer front heights from 203.1mm (8") to 228.4mm (8.99"), the drawer box will be 152mm (6") tall (height).
For drawer front heights from 228.5mm (9") to 253.8mm (9.99"), the drawer box will be 177.8mm (7") tall (height).
For drawer front heights from 253.9mm (10") to 279.2mm (10.99"), the drawer box will be 203mm (8") tall (height).
For drawer front heights from 279.3mm (11") to 304.6mm (11.99"), the drawer box will be 203mm (9") tall (height).
For drawer front heights from 304.7mm (12") and taller, the drawer box will be 254mm (10") tall (height).
Release/Patch Notes - Full Access Cabinets - Webstore
3.02 UPDATE - 4.13.23
System Optimization Update with NEW Catalog items and Material Choices for Slab Doors
Removed rendered 3D model of BLUM Undermount Drawer Slides in cabinet models.

Done to ensure models are less taxing on our customer's PCs and web browser. May improve some speed in loading 3D render.

NEW Catalog Item:

Added Drawerbox

Item that is explicitly a Dovetailed Drawer Box and Drawer Slides
Should limit the necessity to create separate "bids"/"orders" via the 'Cabinotch Drawer Boxes' portal for drawers or "rollouts" which are needed in addition to those which automatically populate with each cabinet.

Added "Trash Base"

Model defaulted to have a full depth fixed shelf under top drawer opening, no hinge drilling, or adjustable shelf.

Modified Existing Catalog Items:

L-Shaped Molding & Toe-Kick

Gave ability to order both in 48" length option instead of exclusively 96" length in previous update.

NEW Door/Fronts Material Type Choice Set:

Added "Cabinotch-Economy" Choice set for Door/Fronts Material Type

This option will allow customers to choose Melamine materials which Cabinotch previously has had on offer for the cabinet carcase. All three of these materials are an engineered core, with melamine

White Melamine
Fog Gray Melamine
Hard Rock Maple Melamine

Other bug and coding fixes
3.01 UPDATE - 1.25.23
Minor Update
QUALITY OF LIFE FIX

Added "X-Ray" functionality into cabinet rendering. Customer's can now see through cabinet door(s)/front(s) to view machining on interior of cabinet.

KNOWN BUGS/ISSUES: *Pending FIX unless otherwise noted*

"Base Sink Full Height Door(s)", if selection for 'Hinge Placement' = None, cabinet Top Rail is shown outside of cabinet bounds and part is missing machining for fasteners. Solution: Instead of changing Hinge Placement to 'None', make affect instead to Door Swing and make that selection 'None' to remove Hinge Plate Machining.
Door/Fronts Type Selection "Cabinotch-Stevenswood" → "Pure White 388-Ashland" incorrectly states it is available in a "Warm Finish". Cabinotch has on offer a "Matte Finish"

MINOR BUG/CODING FIXES
3.0 RELEASE - 1.13.23
Major release update. Brings NEW Material Options for cabinet components as well as introduction Slab Doors and Drawer Fronts!
**Cabinotch has partnered with two new vendors in order to provided 20 NEW TFL products in a variety of colors and textures. Please visit our https://cabinotch.info/faq-fullaccess-webstore/ page for a full breakdown of these offerings or contact our sales and customer service team via email or phone.
QUALITY OF LIFE FIXES

Full Access Cabinet system now allows for "Managing Presets"

Can change and apply multiple presets inside of the same project.

At the "Configure Item" screen the cabinet cost is broken down to include:

Cabinet Price (All wood, melamine, or TFL cabinet box components)
Total Price (Cabinet Price plus Drawer Box plus Door/Front as well as fasteners used for cabinet assembly, IE: Lamello Fasteners or Wood Dowels)

Multiple 'calculated fields' not previously visible are now included. For example, interior cabinet depth on corner cabinets.

MINOR BUG/CODING FIXES
2.0 Release - 10.26.21
Major system update including Quality of Life and Bug Fixes as well as several NEW options
QUALITY OF LIFE FIXES

Presets which were applied at the Project Preset screen are now collapse (expandable via the "Show/Hide Presets" button at the Configure Item screen.
Terminology for previously confusing 'Integral Parts Material' changed to read 'Exterior Parts Material'.

NEW OPTIONS

Added option to have "Finished Ends" which are "Integral" under the 'Side Type' choice set.
Added Lamello Clamex as a "Construction Method"
Added Machining for Axilo Legs as a "Toe-Kick Machining" option.
Added "Replace Top/Mid-Stretcher" option to include choice for "Full Top"/"Full Depth"
BETA LAUNCH V1.0 - 4.28.21
Added NEW "Full Access Cabinets" Project Configurator system to Cabinotch.us Webstore
Gives users ability to specify project presets which will hold through to all cabinets being added from NEW Catalog for Full Access Cabinets. Users are presented with a Live 3D Rendering when configuring each item for project. Cabinet box will also be Priced Live as parameters for cabinet are manipulated.
NEW Options for "Fog Grey" and "Hardrock Maple" melamine.
NEW "Construction Methods" including an alternate pilot-hole diameter of 5mm , traditional wood dowel fasteners (included), as well as an option for No Connector.
NEW Options for Full Depth Lineboring, a cluster of 3 holes/shelf, or a cluster of 7 holes/shelf.
NEW Options for No Back, Zero Scribe for Back, or Nailers both with and without Scribe. 
MORE!