Frequently Asked Questions
Full Access Cabinetry
Why should I use the metric measuring system?
You don't have to use the Metric measurement system instead of Imperial measurement system, but there are some clear advantages.
First and foremost is the fact that there are no fractions, and little or no need for decimals (1 mm is equal to .03937"). Measuring for a plumbing hole in the back of a sink cabinet never requires your employee to know how to find a common denominator, or have the conversions from fractions to decimals memorized, they are working with whole numbers.
Your employees never need to calculate what half of 21- 9/16" is, they just need to calculate half of 548.
Simply stated, the Metric measuring system sets your employees up for success, and removes many opportunities for mistakes, and although they may not be familiar with Metric, the learning curve is exponentially shorter (some employees will never know how to find a common denominator, no matter how much time you spend with them).
The short version is that all cabinet heights should be an increment of 32mm (example: 768/32 =24). As long as you can divide your cabinet height (excluding the toe kick height) by 32, and get an even number, you are on system.
When you use the Cabinotch Full Access Library for KCD, all cabinets will have a default height that is in system. If you use the increment option (up arrow and down arrow) to move your cabinet height up and down in increments of 32mm, you will stay in system, even if you have changed the scale to Inches.
The same logic is built into the door and drawer front heights as well. Doors and drawer fronts should be a divisible of 32 after adding back your chosen reveal (example: 157mm top drawer height plus our 3mm chosen reveal equals 160mm. 160/32=5).
As with the cabinet height, the door and drawer front heights have the  increment option (up arrow and down arrow) to move your door and/or drawer front height up and down in increments of 32mm. Again, you will stay in system, even if you have changed the scale to Inches.
Why should I try to stay in system?
First, and foremost, you don't have to. The Cabinotch Full Access Library for KCD is fully parametric, so if you go off reservation, I mean system, you will be just fine. All your doors, drawers and shelves will work just fine.
BUT, one of the advantages that is still relevant in the age of CNC machines, is that if you stay on system, all your cabinet end panels, doors and drawers will become recognizable in a very short time.
Looking through a list of cabinet parts, door and drawer front parts will become very familiar, and if something is not right, it will be a great big red flag that you need to look deeper (removes the opportunity for mistake from the process).
If you have a wall of shame (you know, that wall in your shop where all the parts that were miss-cut or miss-ordered sits gathering dust), then you might want to consider, or reconsider using the 32mm system.
Why should I use Leg Levelers?
Leg levelers greatest attribute is that you can get your Full Access cabinetry perfectly level, regardless of the floor and wall conditions (with Full Access cabinetry, it is imperative that your cabinets are level and plumb if you want your doors to operate and look proper, 3mm or 1/8" reveals are very unforgiving).
Another attribute that most appreciate is that the cabinets are fully supported on all four corners, not just at the front where they might be shimmed, and then dependent on the shear strength of the screws at the back. In the age of stone counter-tops, which are extraordinarily heavy, this is more important than it was even a few years ago.
While we are on the topic of heavy stone counter-tops, it's nice to know that the sockets that receive the legs are actually partially under the end panels, transferring the weight of the counter-tops to the floor rather then the cabinets joints.
Perhaps the greatest attribute of all is that if there is a water incident in the room where the cabinets are installed (pretty common in kitchens and baths), even if it is only a minor incident like a leaking ice maker, faucet or dishwasher, the cabinets will not be damaged. Only the toe kick will get wet, and it can either be removed to dry, or easily replaced.
Many people appreciate that the toe kick can be removed if there is ever a need to access the space under the cabinets. To have the ability to add or reroute plumbing pipes or electrical wires, or get at heat and air ducting can be a very useful thing, not to mention you just might want your bug man to be able to get at that space when you have the inevitable rodent issue.
From the manufacturing perspective, leg levelers allow us to get 6 base end panels out of a single sheet, where full height toe notched ends only yield 4 base end panels. This extra material yield translates to lower material cost, and thus lower cabinet cost than it would be otherwise.
Why should I use the Suspension System for my Upper Cabinets?
Like Leg Levelers, the Suspension System, which consists of steel rail you mount on the wall and suspension blocks that install in the upper corners of the wall cabinets, you can get your wall cabinets perfectly level and plumb. Again, 3mm or 1/8" reveals between doors and drawer fronts are very unforgiving.
One frequently overlooked feature of the Suspension System is that it allows for a single man installation crew (the modular nature of Full Access cabinetry allows for a single man delivery if you ever get tired of paying people to look at the back of a windshield on the way to and from the job-site each day).
The Suspension Blocks have two screws in the face of the block, the upper screw allows you to raise and lower the cabinet, the lower screw allows you to plumb the cabinet. Once you have the cabinets level and plumb, you simply slide covers over the block, making it aesthetically appealing (if the house settles over time, the Suspension Blocks allow the cabinets to be tweaked to accommodate for the settling).
Where do I locate the Suspension Rail on the wall for my Upper Cabinets?
It's best to first find the highest point of the floor in the room, then measure up to the top of your upper cabinetry and make a mark if you will be using a laser to install, or draw a level line where ever upper cabinets will be installed.
To locate the center line of the suspension rail, simply measure down 56mm (2 1/4") from the upper line you just marked and make a second mark if you will be using a laser to install, or draw a second level line where ever upper cabinets will be installed.
Tip: The Stabila brand of levels just happens to be 56mm wide/tall, so if you use that brand of level, or you find your favorite brand just happens to be 56mm wide/tall, then you can position to trace the top line where the top of your upper cabinets will be at the top of your level, and the bottom line at the bottom of your level.
Cut your suspension rail to length to fit where ever upper cabinets will be installed, making any joints fall on a stud.
Center the screw holes of the suspension rail on this second line and screw the rail at each stud (you can shim the rail if the wall has bows in it). Attaching the end of the rail with toggle bolts if there is no stud in that location.
What are the advantages and disadvantages of Applied Ends verses Integral Finished Ends
On cost sensitive projects that are very simple, Integral Finished Ends can save the cabinetmaker some material cost.
Applied Ends allow them to stack cabinets (you can't stack if you use the integral finished end option). Stacking allows you to exceed our 96" height limitation.
With Applied Ends, all cabinet parts are ready to build when the order is received (integral finished ends would have to be identified, separated to go through the prep and finish process, and those cabinets could not be built until those parts were sanded, finished and allowed to dry).
Integral Finished Ends will require the cabinetmaker to tape off the UV portion of the part so it does not get over-spray on it during the finish process.
When using the combination of Applied Raised Panel Ends on fully exposed ends, and integral finished ends on finished ends where the end engages another cabinet, and can't be raised panel, this combination gives an unbalanced appearance (i.e., and tall oven cabinet with an applied raised panel end on one side, and an integral finished end on the other where it engages base and/or wall cabinets).
When using applied ends exclusively, the cabinetmaker has the option to install a project without the applied ends (in the case of a highly time sensitive project), adding spacer blocks while installing, and to come back later with the applied ends.
Applied Ends on wall cabinets allow the cabinetmaker to run the applied end long (add the height of their light rail to the cabinet height) so the light rail is always straight cuts. Otherwise, they have to order more light rail, and cut two miter's for every return.
Applied End panels, when extended past the cabinet depth by the thickness of the cabinet doors provides an inset appearance.
Integral End Panels can't be an exclusive option, you have to use applied ends where you have an enclosed refrigerator, or need panelized (raised or inset) ends.
What edges do you edgeband?
Currently we only edgeband the front edge of all cabinet parts. If you think we should do something different, please use our Contact page to let us know your thoughts and opinions on this topic.
What edgeband options do you offer?
We offer Rehau PVC edgeband in their 50 most popular colors and raw veneer edgeband in the following species:
Alder
Cherry
Hard Maple
Hickory
Red Oak
White Oak
Walnut
We also offer a pre-finished Hard Maple edgeband option.
If none of these meets your requirements, you have several other options. If you have your own edgebander, you can choose "None", and we will not edgeband your parts, allowing you to edgeband them with what you want, and where you want.
Another item in our list that may be helpful is our "Customer Supplied" option. If we don't have a color or type of banding that meets your requirements, then you can source the edgeband yourself and have it shipped to our plant. We will hold your job in Order status until we have received the edgebanding at our plant, then release it to the floor once the edgebanding arrives, and edgeband your parts with the edgebanding you supplied. We will then include the balance of supplied edgebanding with your shipment.
Why do I have to hinge my doors in KCD?
If you are a Cabinotch Face Frame user, it might seem a little odd that you have to hinge your doors in the Cabinotch Full Access Library for KCD.
Well, there is actually a very good reason for that. In the face frame world, there is no machining for hinges, but in the Full Access world, we actually machine two 5mm holes 32mm apart for Euro Hinge Plates (ideally you will purchase Hinge Plates that already have a 5mm Euro screw started, or utilize a split dowel). So, if you do not add the hinging, then we do not know where to machine the hinge plate holes.
Hinging your doors can be done in multiple ways:
All at once by going to Doors > Add Handles + Hinges (I don't recommend this method as it may hinge one or more doors incorrectly, and if you don't notice it, that may cause you some grief later).
One at a time by going to Doors > Change 1 Hinge.
One at a time by holding the Shift key and clicking on the primary button of your mouse (my preferred method).
Moral of this story, if you don't see the hashed lines like the ones in the image shown, you will NOT have hinge plate holes machined in the side panels of your cabinetry.
Where do I bore my hinge holes in my doors?
The hinge holes should be bored an equal distance from each end of your doors. Bore a hinge cup hole (size and depth determined by your brand and model of hinge, typically these holes are 35mm in diameter, and 13mm deep) at 94.5mm (3- 3/4") from each end of the door.
What Hinge and Hinge Plate should I use?
Good question, and I have a simple, but long answer for you.
Since we can't accommodate for all the various brands and models, we had to settle on a single brand (Blum), and you should be able to use any of the various models for each application I will describe below.
For Typical Doors on a Typical Cabinet, we are boring the two 5mm hinge plate holes 37mm back from the front edge of the cabinet, so you could potentially use any brand and model you want (every Euro hinge manufacturer has a hinge for this application, and the 37mm setback is universal).
Since we have chosen the Blum brand, then we recommend the 71B3590 110 degree INSERTA hinge with the 174H7100E 0mm EXPANDO plate.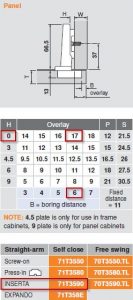 For Blind Corner Cabinets, we recommend the 79B9590 inset blind INSERTA hinge with the 174H7130E 3mm EXPANDO plate.

For Diagonal Corner Cabinets, we recommend the 79B3598 45 degree INSERTA hinge with the 174H7100E 0mm EXPANDO plate.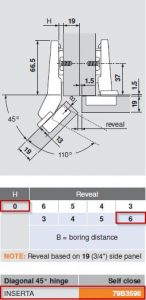 For Angled Cabinets (this is the cabinet that is shaped like a Triangle), we recommend the 79B3490 negative angle INSERTA hinge with the 175H7190 9mm EXPANDO plate and the 181.6130 Spacer.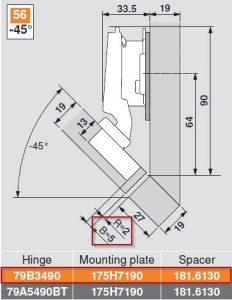 For Clipped Cabinets that are hinged on the short/shallow side, we recommend the 79B3598 45 degree INSERTA hinge with the 174H7100E 0mm EXPANDO plate (same hinge and plate used on a Diagonal Corner Cabinet).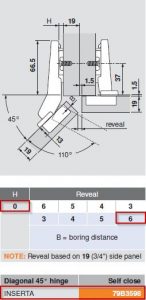 For Clipped Cabinets that are hinged on the long/deep side, we recommend the 79B3490 negative angle INSERTA hinge with the 175H7190 9mm EXPANDO plate and the 181.6130 Spacer (same hinge and plate used on Angled Cabinets).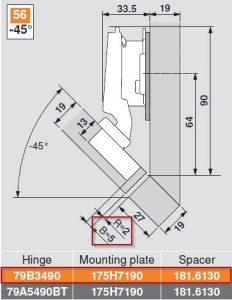 For a Piecut Corner Cabinet, we recommend the 71T7540N01 155 degree INSERTA hinge with the 174H7100E 0mm EXPANDO plate.
For attaching the two Piecut Corner Cabinet doors together, we recommend the 79T8530.10 Bi-fold PRESS-IN hinge with the 174H7100E 0mm EXPANDO plate for Flat Panel Doors or the 175H6000 frame adapter plate for 5 piece doors.
What are my drawer guide options?
Currently we only machine for Blum Undermount Drawer Guides.
Where do I position my drawer fronts on my drawer boxes?
Side to side reveal should always be even (centered).
To position your drawer box on your drawer front top to bottom, the bottom reveal of a bottom drawer should be 35mm (1- 3/8"), the bottom reveal of all other drawers should be 25mm (1").
Why are your wall cabinets 330mm (13") deep?
We use a 19mm (3/4") thick back, and hold that back off the wall 10mm (3/8") to leave room for the hanging rail that is part of the suspension system we use to install Cabinotch Full Access wall cabinets (see the Suspension System question for more information), so the cabinet will have 1- 1/8" less interior depth than the total cabinet depth.
To make certain the end user will have adequate interior space to store their dishes (over-sized plates have become very common place), we have bumped our default cabinet depth to 330 (13").
You are in full control of the wall cabinet depth, so you can set it to anything you want, but we wanted our default depth to accommodate as many over-sized dishes as possible. Of course there are some that would require a 458mm (18") deep cabinet, but a 330mm (13") depth should accommodate the vast majority of over-sized plates.
Which Lamello P-14 Fastener goes where?
We have found that if you put the female in the shouldered Lamello slot of your vertical parts, and the male in the shouldered Lamello slot of your horizontal parts, they do seem to go together easier.
You also want to make sure that both the male and female Lamello's are not in the slot uneven (make sure they are pushed in far enough that the face of the Lamello is on the same plane as the face or edge of your part, centered and level). If the female is in crooked, when you go to push the parts together, it will slide even more in the direction that it was out, and it will become impossible to snap the connectors together.
If you accidentally do put a Lamello in incorrectly, and you can't snap it together, if you have put a significant amount of force trying to push it together, it is best to disassemble, and then replace the male part (it is almost impossible to damage the female part, but the tines of the male part are fairly easy to damage).
Do I need to glue the joints when assembling these full Access Cabinets?
Yes, you will need to use a PUR glue (i.e., Gorilla or Titebond PUR). PUR glue is the best choice, and the glue joints it produces far exceed all KCMA specifications.
Your objective is to glue the fastener (I like to glue the vertical part, letting glue run down into the female Lamello fastener), so that once the glue dries, the glue fills all the space behind the tines, keeping the fastener from being able to come back apart.
You also want to run a small bead the entire length of the joint for good measure, keep the bead as thin and tight as you can as PUR glues foam, and tend to ooze out if you use too much.
Do I have to use any particular brand of hinge?
Euro hinges are pretty universal when it comes to the standard hinge application (standard hinge plates are 37mm from the face of the cabinet to the center of the 5mm holes), but when you get into specialty cabinets like the Blind Corner Cabinet, Pie-cut Corner Cabinet, Diagonal Corner Cabinet, Angled Cabinet and Clipped Cabinet, you will need special application hinges, and for these specialty hinges there are no universal locations for the two 5mm hinge plate holes.
In an attempt to keep our options to a bare minimum, we have chosen to make all the machining for these special application hinge plates align with the Blum brand of hinge. If you have any trouble sourcing them, you can actually purchase them from us during the check out process.
Are there any specialty tools I will need to assemble my Cabinotch Full Access Cabinetry?
Yes, a dead blow mallet is an essential tool for assembling Full Access cabinetry. You will need it to:
Tap the cabinet parts into alignment (the Lamello fastener has about 2mm of lateral adjustment).
Knock the leg leveler sockets into the bottoms of your base and tall cabinet bottoms.
Drive the suspension blocks into the two 10mm holes.
What is the best assembly sequence for Cabinotch Full Access Cabinetry?
The best way to assemble most cabinets is to lay one of the two side panels down flat on a level table, then snap all the horizontal parts into the side panel (they will be horizontal once you stand the cabinet up into it's upright and normal position).
Next, lay the second side panel on top of the horizontal parts, and align all the fittings, then you can gently tap them with your fist or the dead blow mallet (don't try to force them).
Then use the dead blow mallet to lightly tap all your parts into alignment (the Lamello clips allow approximately 3mm (1/8") of lateral adjustment).
Why are there 15mm holes in the bottom of my Base Diagonal and Piecut Corner Cabinets?
Another great question. Several reasons create the need to have these holes in the bottoms of your specialty corner cabinets. From our perspective (manufacturing), we can only machine one side of a part, and this particular part needs to be machined on two sides if you choose to utilize leg levelers (the leg levelers require a 15mm hole to attach the legs, but we also have to groove the other side of the part for the backs).
To solve the need to machine on both side in the absence of the ability to do so, we choose to through bore the leg leveler holes (so we machine the interior face, but through bore the leg leveler holes so they can be used from the exterior face).
From the users perspective, it is very difficult to reach the back leg(s) of either of these specialty cabinets, and by through boring these holes, you can adjust this hard to reach leg or legs from inside the cabinet (just stick a long Philips head screwdriver down through the hole, and you will find a star shaped bottom of the foot that will allow you to adjust using the screwdriver).
Once you are done leveling your cabinet, you can use an 18mm peel and stick FastCap to cover these holes.
Why is there a 10mm (approximately 3/8") space behind my Full Access cabinet backs?
Two reasons. First, to accommodate the hanging rail for the Camar Suspensions System, but even if you choose not to utilize the Suspension System, you will still have this 10mm space we like to refer to as Back Scribe.
From the name, you have probably already guessed the second reason for the 10mm space behind the back. Building are almost always framed with wood, and walls made from wooden studs are not only seldom plumb, they are seldom straight (they have humps and bows in them).
The 10mm Back Scribe gives you some breathing room to scribe cabinets to bad walls when needed. And on occasion, you will find it useful for the plumbers loop de loop trick to not run drain pipes through the bottom plate of a wall, this extra 10mm of space might be just enough to keep you from butchering another of your awesome cabinets.
Do you have Face Frame cabinets?