Just finished up with the most obvious scenarios for QuickStart jobs and passed them on to our cabinotch® sales team, and they will be making them available to you shortly.
So I'll bet you $100.00 of Monopoly money that the majority of you are saying something to the effect of "that's nice, but what's a QuickStart job?"
Well let me explain. So when you draw a job in KCD, it can save a bunch of time if you start out by going through the Shop Standards telling KCD what the wall height of your room is, the floor-to-top of wall cabinets position is, the height of the wall cabinets and at least another dozen or more details about your project.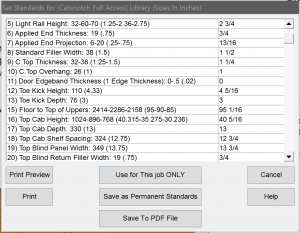 But, if you take the time to do this exercise, which some of you don't have the patience to do, you end up actually saving time rather than burning daylight (I know, that's what it feels like when you are slugging through all those dimensions for the millionth time).
The objective being to tell KCD what you are going to want as you start drawing walls and adding cabinets to those walls, so you won't have to constantly be entering heights, positions and dimensions as you add each cabinet, filler, applied end, appliance, etc.
Now I know I'm preaching to the choir when I say not all jobs are equal in complexity, but even a simple job can add a substantial amount of time to your design if you answer all these questions in the unit dialog boxes rather than answering them in the Shop Standards before you start your design. When your cabinets go to the ceiling, and you want to utilize a frieze mold, and want your crown mold properly positioned, you can really spend a lot of time entering the information that makes everything work and look right.
This would be a good place to add a design hack that could expedite the process of answering these questions, and that is exactly what a QuickStart job is. BUT a QuickStart job when opened appears to be a mistake, or broken since there is nothing there when you open it. No walls, no cabinets, no nothing. But in spite of its apparent lack of content, the QuickStart job actually has answered all those pesky Job Standards, and sets you up for design success.
Anybody can make a QuickStart job, and you don't even have to call them QuickStart jobs, you can call them Design Hack jobs, or JumpStart jobs, anything that suits your fancy. The 10 QuickStart jobs I created include all the typical scenarios, 8 foot ceiling not to ceiling, 8 foot ceiling staggered heights, 8 foot ceiling to ceiling, 9 foot ceiling not to ceiling, etc.
Each has appropriate heights and positions for that scenario, along with crown molding that is an appropriate size (the taller the ceiling height, the larger the crown mold, and if I could control the crown spring angle, I would make that appropriate as well). So there you have it, introducing the cabinotch® Full Access Library QuickStart jobs, coming to your PC soon.
If you just can't wait on your cabinotch® salesperson to bring them to you (or if you are in a part of the country not covered by our team of sales professionals), download them here:
STOP right there Mister Cabinetmaker. Before you jump in lock, stock and barrel, there is one rule you must follow. Once you open any QuickStart job, make sure that "Job #1" is to do a Save As, and give it another name (if we have not discussed it before, I promise we will discuss it many time in the future, job name structure is IMPORTANT) that makes sense to you in the context of the job you will be designing. In the absence of this Save As step, you will lose your QuickStart job (it will not longer be en empty job).
Well that pretty well covers this topic, but feel free to ask any questions you might have below, and to make sure you won't miss any of our cabinotch® posts, enter your email address in the Subscribe field on the right, and each time we add to this discussion, you will automatically be notified. Oh, and you won't hurt our feelings if, depending on where you are seeing this, you Share, Like, Plus or Re-tweet it.