If you made it by our booth at AWFS-2017, thanks for stopping by. If you did not make it to the show, then you might find this post of interest. Our Booth came out awesome, and was filled to capacity multiple times on day two of the show (by far the busiest day).
So you don't have to take my word on how awesome our booth was, here are a few shots of the booth.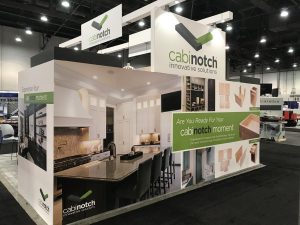 If you were to look very closely at the appliances in the oven/microwave cabinet, you might just notice that they are fake. That's right, they are printed on sign board and notched and folded at the corners to provide depth. We had quite a few cabinetmakers ask about them, thinking that would be a great way to equip a showroom without the hassle and expense of real appliances.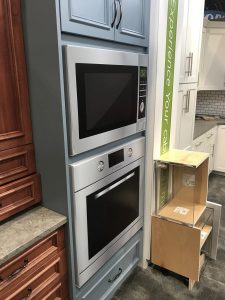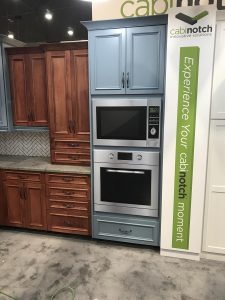 As great as our booth turned out, it was not without a ton of hard work on the part of a whole lot of people inside and outside of Cabinotch. Probably our largest challenge of the show was when Guy Conners and I showed up on Tuesday morning with intentions of finalizing a few details like surface hardware and crown mold, and found that our booth had been assembled facing the wrong direction. Had to totally disassemble and rebuild, so what should have been a couple hours work for the two of us turned into an all hands on deck and a late dinner. By the way, it was 115° in the hall on setup day.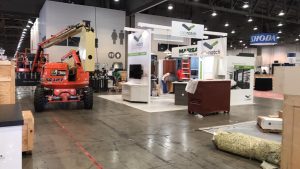 Then there is always the drudgery of getting ready for the show (this is hot, hard work right here).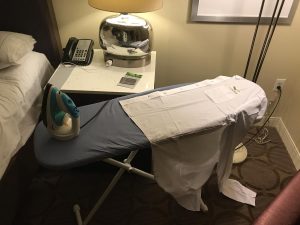 So enough about us, let me show you a couple of the cool things we saw there, the first being our across the aisle neighbors cool tool trailer. All the tools you see store inside two very long drawers that run right up the middle of that shiny compartment in the center of the trailer. Each tool has it's own power outlet and dust collection.
This Shaper thingy was an award winner, and pretty darn cool. You put down those domino looking tape pieces and it follows the tape.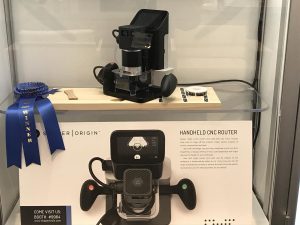 Rev-A-Shelf's new power in the drawer management system was pretty cool too (I have no idea what they actually call it). I added a power outlet in the back of quite a few drawers in my day, but the wire management was never satisfactory. This bad boy works flawlessly.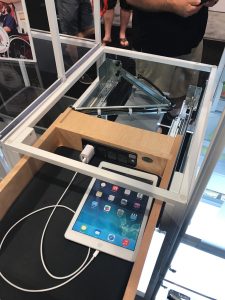 These Winbag thingy's look like they could come in pretty handy on an install.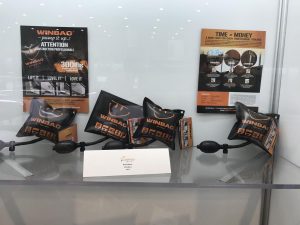 I was pretty impressed with this installation lift myself, and the inventor is a good ole Tennessee boy (Cookeville, TN).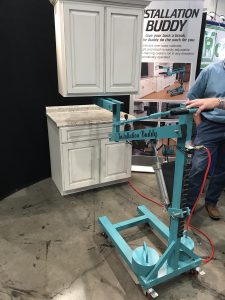 As always, there had to be a few sexy cars.
Oh, and these Flying Toekicks things are the bomb (sure could have used those a few times in my career).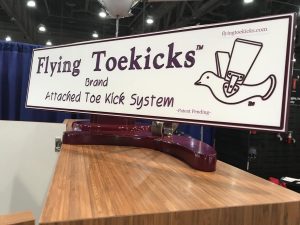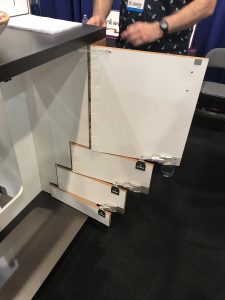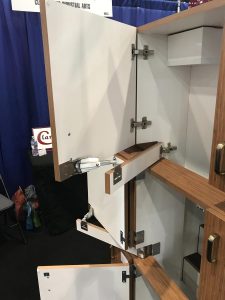 You know you can't talk about Las Vegas without at least one photo of the food, and this was no ordinary meal, this right here was an adventure (no plates, no silverware, lots of wet wipes). YUM!
And we always seem to find time to have a little fun while we are working our tails off (you can hit the replay button in the bottom left hand corner if once wasn't enough).